Set Up
There are some things we need to define before we can start fitting models and making predictions.
The population sizes need to be determined.
Initial values for the four compartments must be determined.
The time points are not evenly spaced, so we need to define appropriate offset values to capture the amount of aggregation performed (time between reports).
We must define the spatial correlation structure.
A set of basis functions needs to be chosen to capture the temporal trend.
Prior parameters and parameter staring values must be specified for each chain.
A whole bunch of bookkeeping stuff for which I haven't yet programmed sensible default behavior needs to be set up.
Compartment starting values follow the usual convention of letting the entire initial population be divided into susceptibles and infectious individuals. The starting value for the number of infectious individuals was 86, the first infection count available in the data. Offsets are actually calculated in the first code block (above) as the differences between the report times. For temporal basis functions, orthogonal polynomials of degree three were used. Prior parameters for the E to I and I to R transitions were chosen based on well documented values for the average latent and infectious times, and the rest of the prior parameters were left vague. These decisions are addressed in more detail as comments to the code below.
With the set up out of the way, we can finally build and run the models the models. The code presented below has recently (8/27/2014) been set up to use the "parallel" library which is included with the R statistical analysis software. While this allows us to spend considerably less time waiting for the document to compile, the code may be more difficult to understand for those unfamiliar with this useful parallelization library. The previous analyses, linked above, may be a better guide to the basic use of the spatialSEIR library for such users.
As this is a Bayesian analysis in which the posterior distribution is sampled using MCMC techniques, we really need some indication that the samplers have indeed converged to the posterior distribution in order to make any inferences about the problem at hand. In the code below, we'll read in the MCMC output files created so far, plot the three chains for each of several important parameters, and take a look at the Gelman and Rubin convergence diagnostic (which should be close to 1 if the chains have converged.)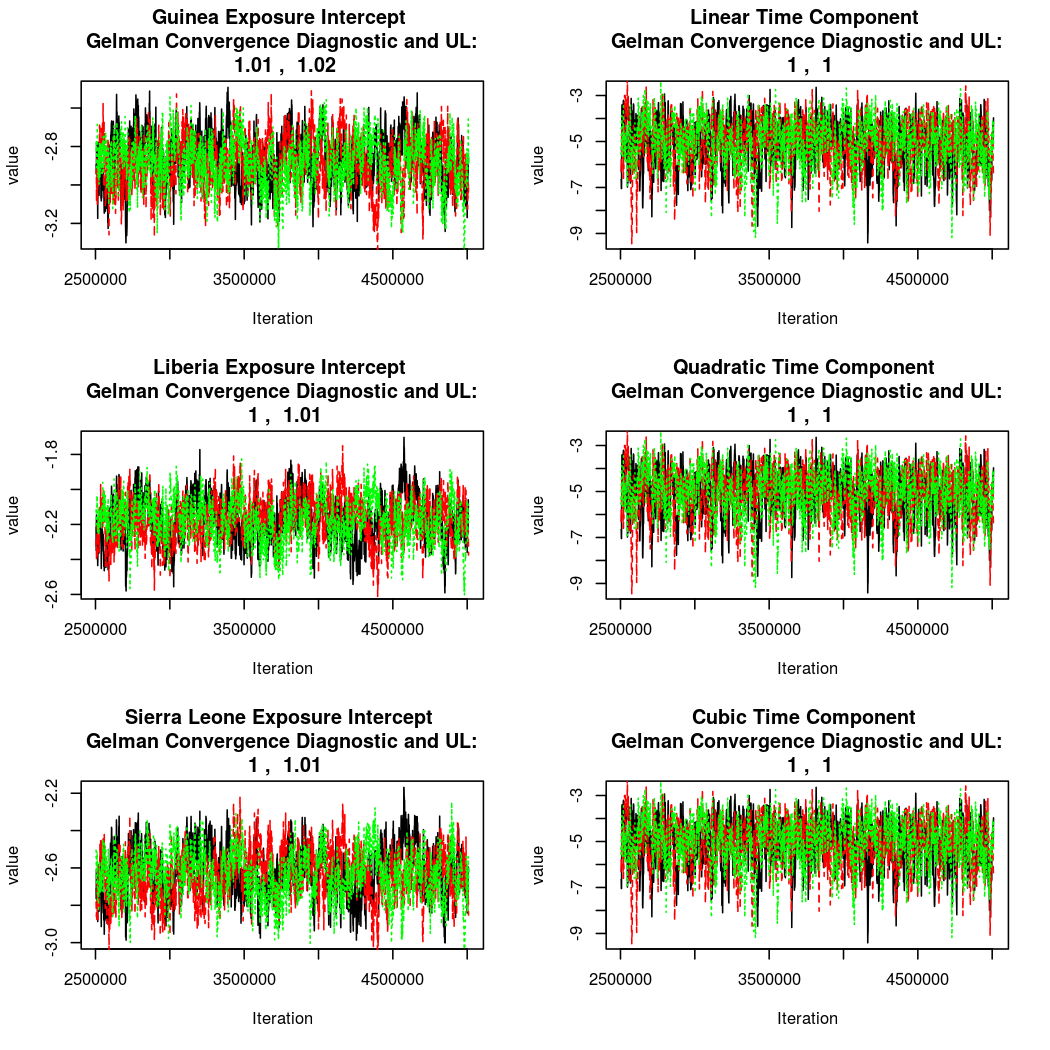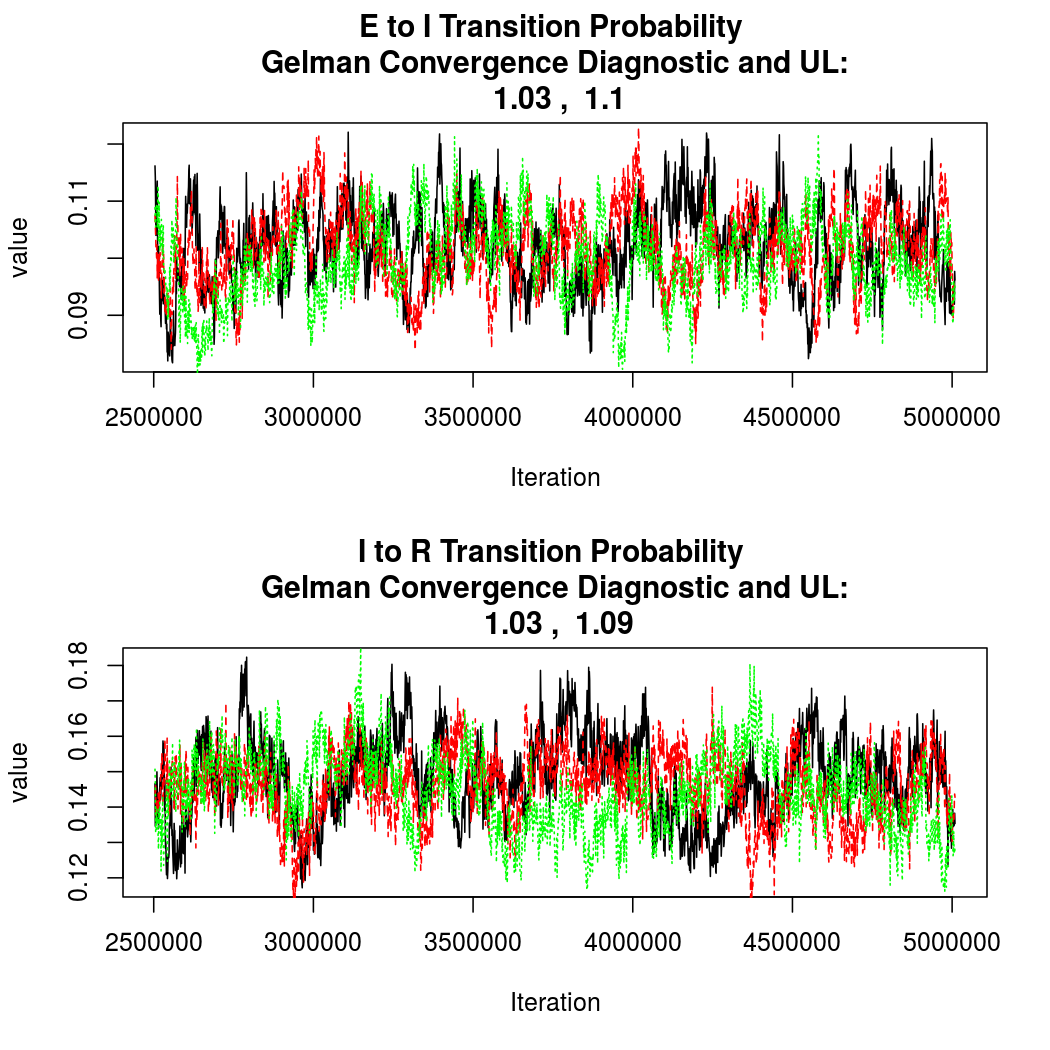 The convergence looks quite reasonable, so let's dissect the estimates a bit.
Estimated Epidemic Behavior
## Output from coda library summary:
## ########################

## 
## Iterations = 1:2506
## Thinning interval = 1 
## Number of chains = 3 
## Sample size per chain = 2506 
## 
## 1. Empirical mean and standard deviation for each variable,
##    plus standard error of the mean:
## 
##                                  Mean      SD Naive SE Time-series SE
## Guinea Intercept             -2.87701 0.12709 1.47e-03       6.42e-03
## Liberia Intercept            -2.17583 0.12357 1.43e-03       6.83e-03
## Sierra Leone Intercept       -2.62953 0.12726 1.47e-03       6.88e-03
## Nigeria Intercept            -5.09220 1.01967 1.18e-02       3.55e-02
## Linear Time Component         9.51054 1.01445 1.17e-02       4.97e-02
## Quadratic Time Component     -8.64291 0.91460 1.05e-02       4.75e-02
## Cubic Time Component          5.59542 0.72574 8.37e-03       3.76e-02
## Quartic Time Component       -1.47478 0.37068 4.28e-03       2.52e-02
## Spatial Dependence Parameter  0.00889 0.00185 2.13e-05       8.43e-05
## E to I probability            0.10115 0.00687 7.93e-05       5.26e-04
## I to R probability            0.14611 0.01077 1.24e-04       9.73e-04
## 
## 2. Quantiles for each variable:
## 
##                                   2.5%      25%      50%     75%   97.5%
## Guinea Intercept              -3.13376 -2.96223 -2.87405 -2.7877 -2.6364
## Liberia Intercept             -2.41897 -2.26074 -2.17307 -2.0897 -1.9427
## Sierra Leone Intercept        -2.88032 -2.71388 -2.62841 -2.5415 -2.3877
## Nigeria Intercept             -7.32978 -5.72044 -4.99347 -4.3649 -3.4024
## Linear Time Component          7.62770  8.81565  9.47650 10.1894 11.5742
## Quadratic Time Component     -10.51057 -9.25984 -8.61686 -8.0074 -6.9179
## Cubic Time Component           4.19592  5.09820  5.59362  6.0784  7.0311
## Quartic Time Component        -2.22704 -1.72631 -1.46943 -1.2257 -0.7641
## Spatial Dependence Parameter   0.00539  0.00764  0.00884  0.0101  0.0127
## E to I probability             0.08738  0.09650  0.10113  0.1058  0.1144
## I to R probability             0.12498  0.13875  0.14627  0.1534  0.1670

The average time spent in a particular disease compartment is just one divided by the probability of a transition between compartments. The units here are days, so we can see that the average infectious time is estimated to be between 78.9 and 185.6 days, while the average latent time is most likely between -1.3 and -0.4 (95% credible intervals). In reality, there is a lot of variability in these times for Ebola, but these seem like reasonable estimates for the average values.

We also notice that there is definitely non-zero spatial dependence (the distribution of the spatial dependence parameter is well separated from zero), indicating significant mixing between the populations. This is unsurprising, as the disease has in fact spread between all three nations.
It also appears that Guinea has the lowest estimated epidemic intensity, followed by Sierra Leone and Liberia, which have similar credible intervals for their intercept parameters.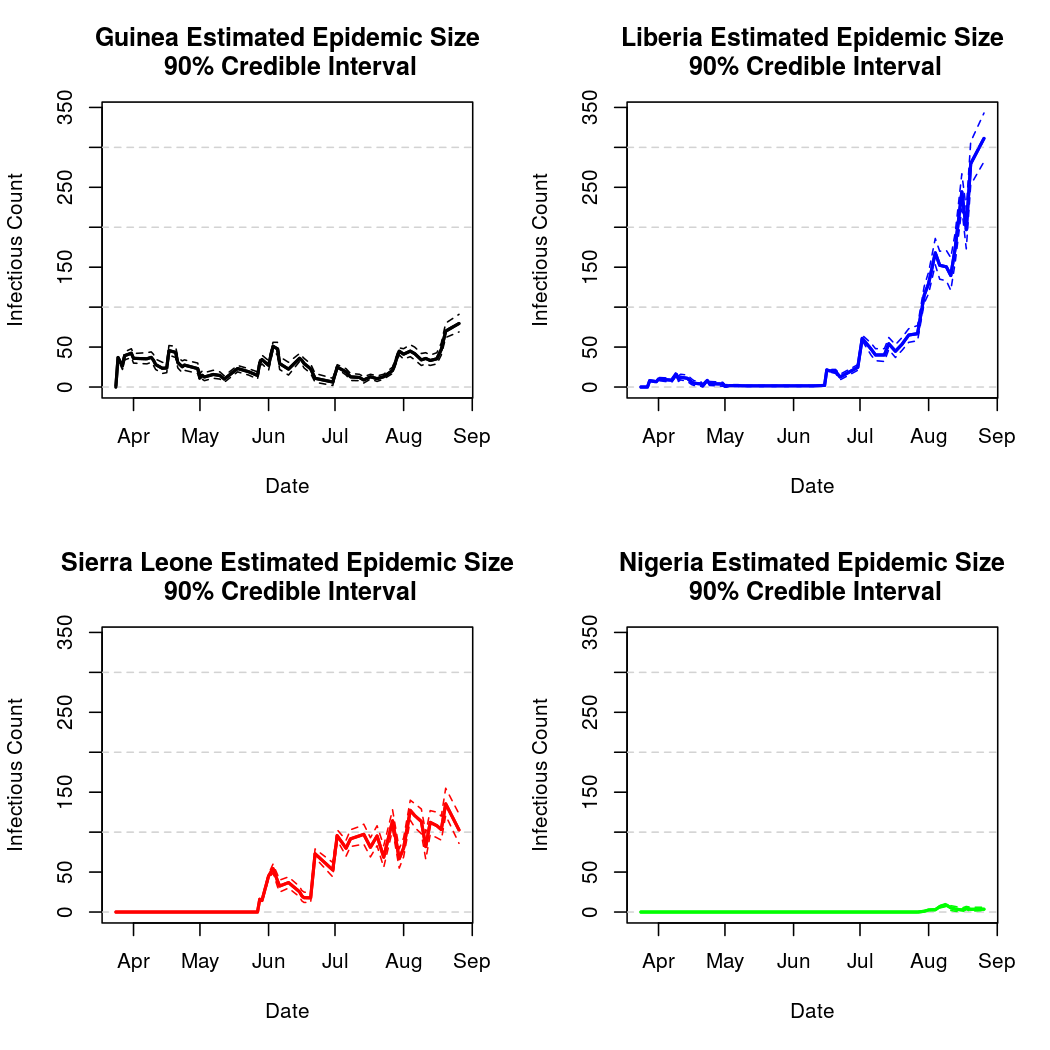 Basic Reproductive Number Calculation
A common tool for describing the evolution of an epidemic is a quantity known as the basic reproductive numer, the basic reproductive ratio, or one of several other variants on that theme. The basic idea is to quantify how many secondary infections a single infectious individual is expected to cause in a large, fully susceptible population. Naturally, when this ratio exceeds one we expect the epidemic to spread. Conversely, a basic reproductive number less than one indicates that a pathogen is more likely to die out. This software library doesn't yet compute the ratio automatically, but does provide what's known as the "next generation matrix" which can be used to quickly calculate the quantity.

The dip in recent days in the estimated basic reproductive ratio is definitely a hopeful sign that public health interventions and education efforts have begun to change the epidemic dynamics. Notice, on the other hand, the high variability throughout May. This is an interesting result, and perhaps reflects the seemingly contradicting information from Guinea (where the epidemic continued to spread) and Liberia (where the epidemic briefly disappeared).
These figures no longer look reasonable with the introduction of Nigeria, so work is underway to estimate the quantity separately for each nation.
Epidemic Prediction
Currently the simulation required for epidemic prediction must be done "manually" by writing a bunch of R code. As the library develops, a simpler prediction interface is a high priority.
Below, we will attempt to predict the course of the epidemic through early fall. We must be cautious when making predictions about a chaotic process this far into the future. We must be particularly cautious because the basis chosen for the temporal trend in the epidemic intensity process was polynomial. While polynomial bases often provide a good fit to the data, they can behave unreasonably outside the range over which the model was fit (quadratic and cubic terms can get large very quickly).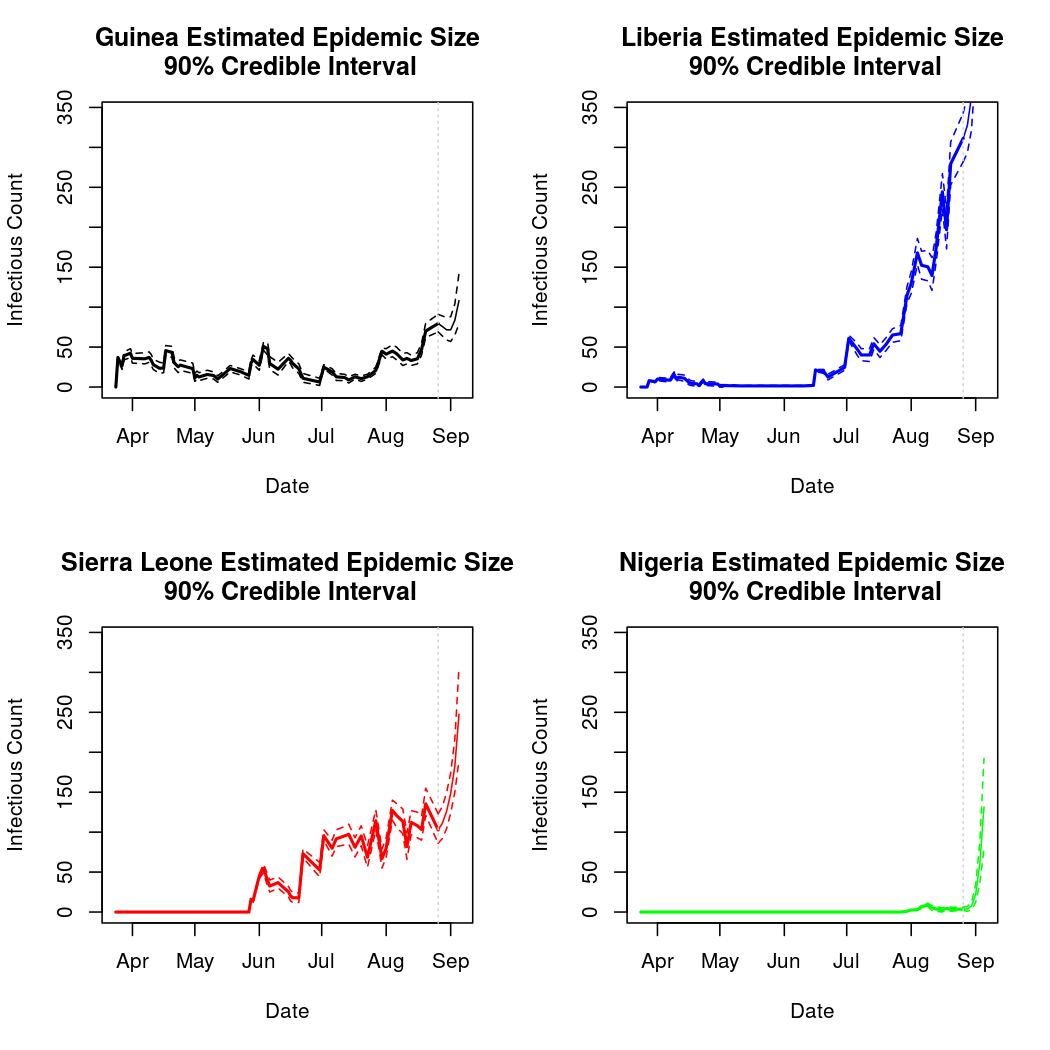 These predictions do not look alltogether unreasonable, though past analyses have shown that such polynomial bases can extrapolate poorly. Analysis 2 will consider the results of using a natural spline basis for this process instead. Spline bases extrapolate linearly, and so are less prone to extreme extrapolation errors.
Set Up
The problem with polynomial basis functions is that they extrapolate poorly, exhibiting extreme behavior under prediction. On the other hand, they often perform quite well for estimation purposes and prediction within the range of observed data. For this reason, and because spline basis coefficients are somewhat difficult to interpret, analysis 2 will not repeat the qualitative interpretation work presented above. Parameter estimates are available below for completeness.
Again, convergence looks quite good: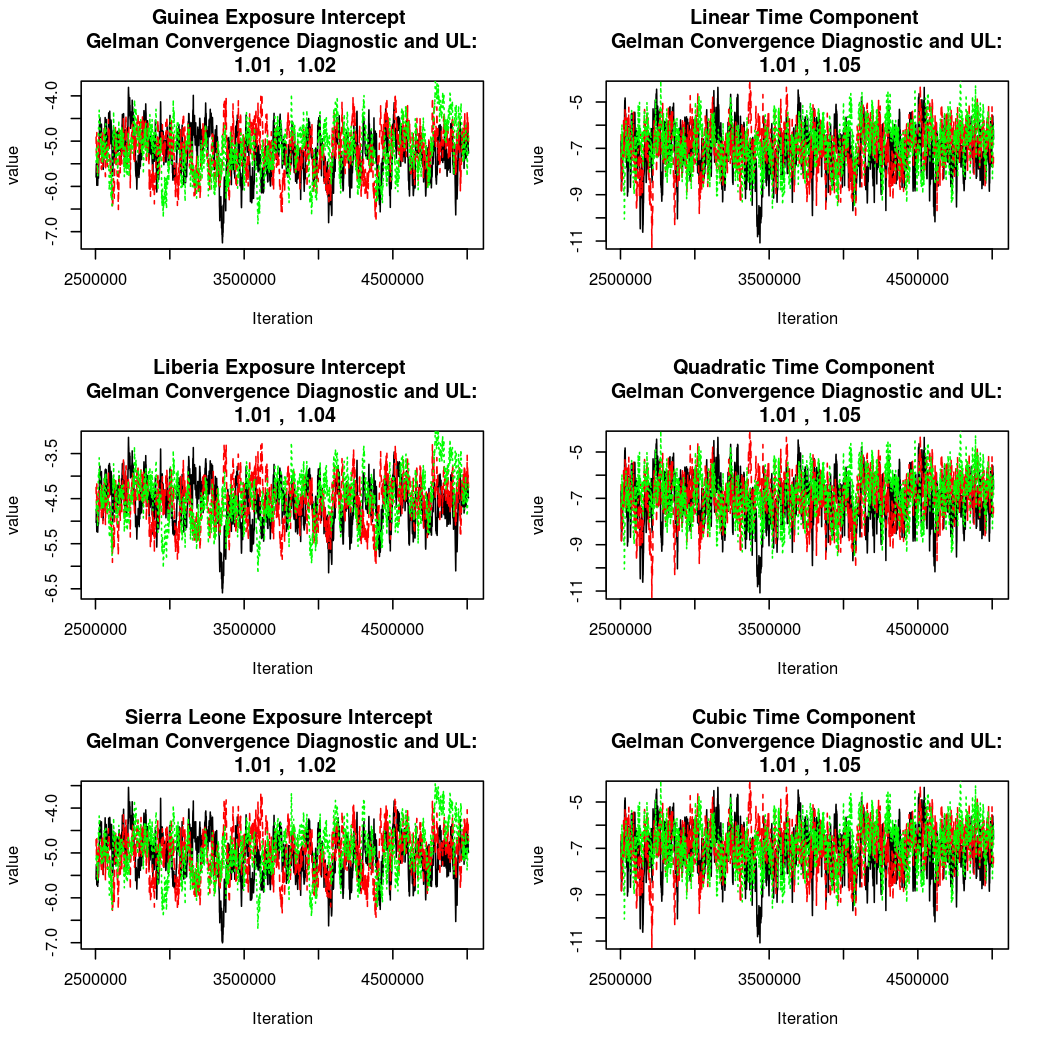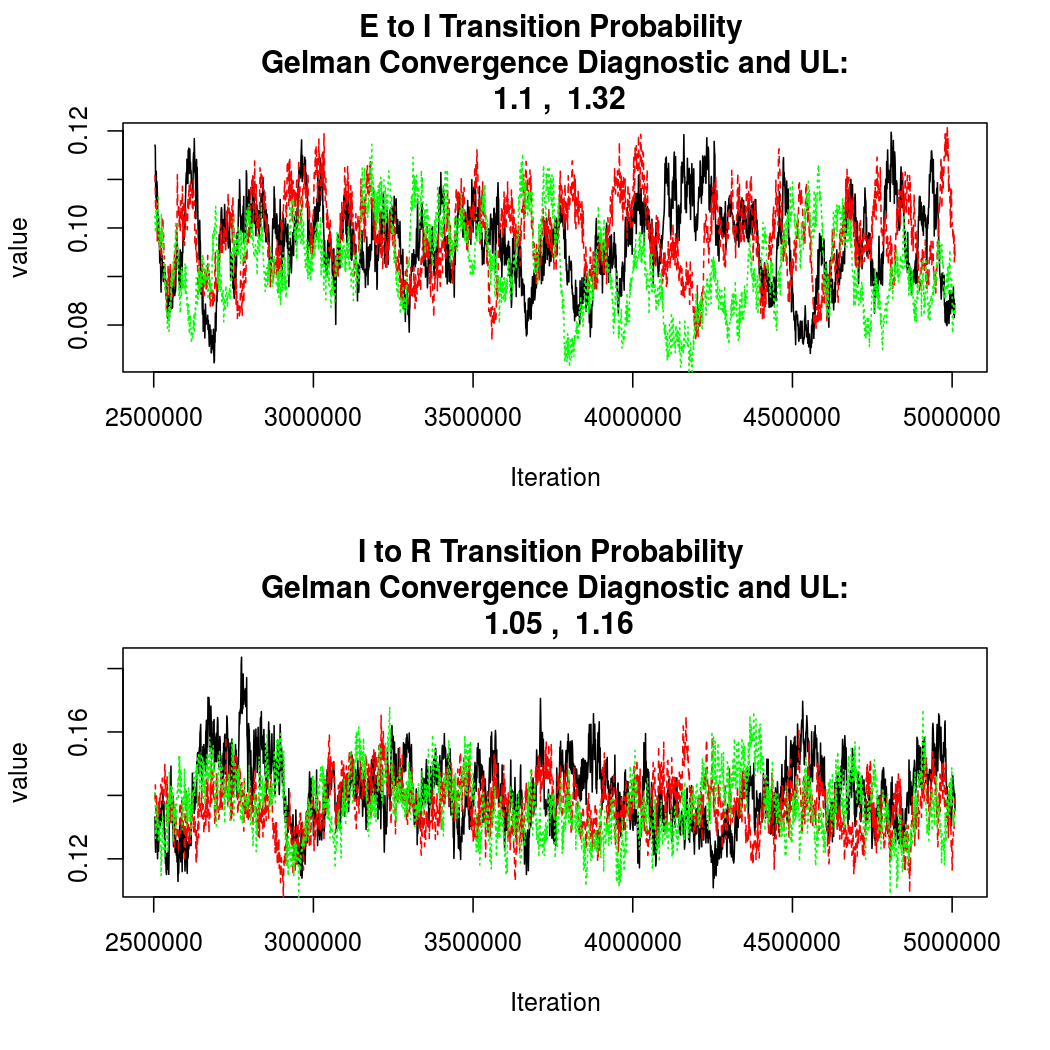 Basic Reproductive Number Calculation
Again, the basic reproductive number estimate no longer appears reasonable.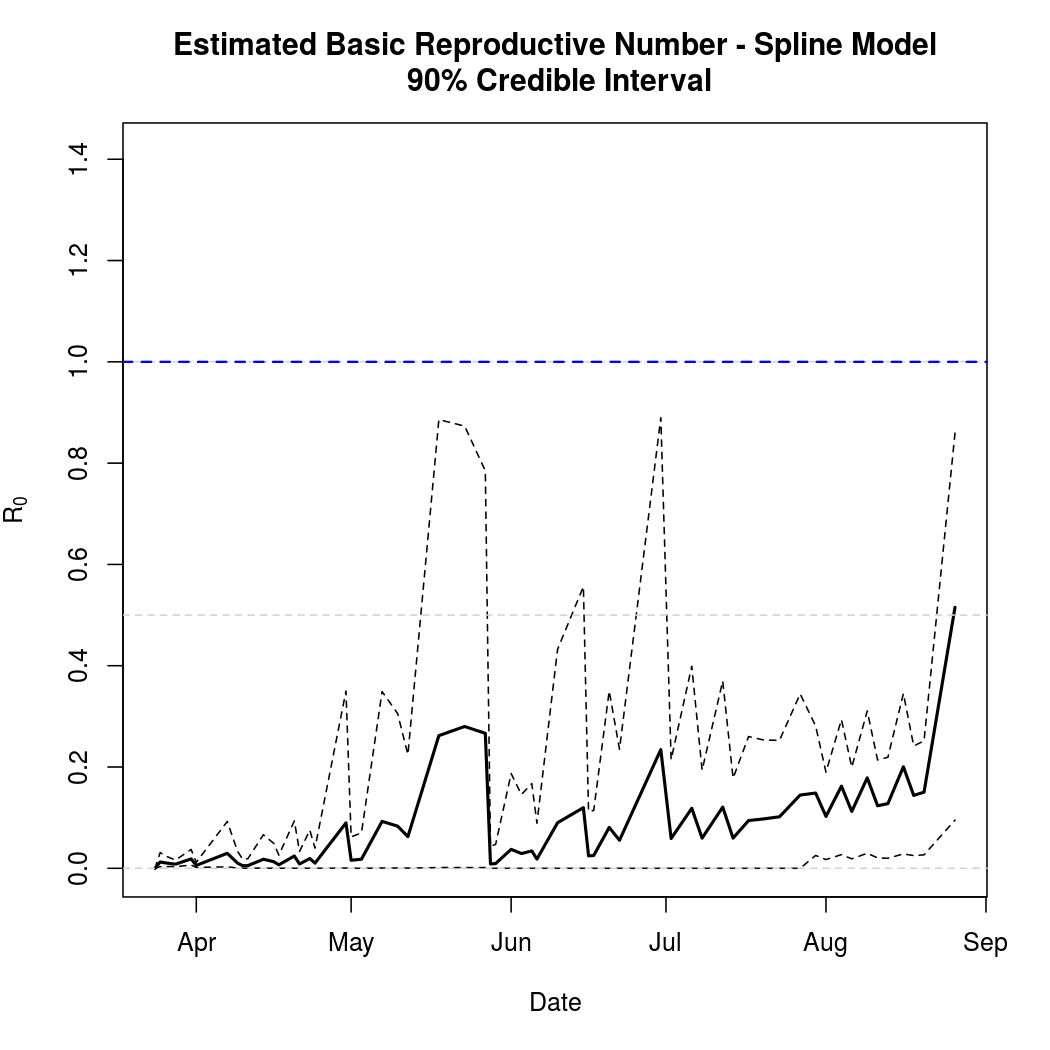 Epidemic Prediction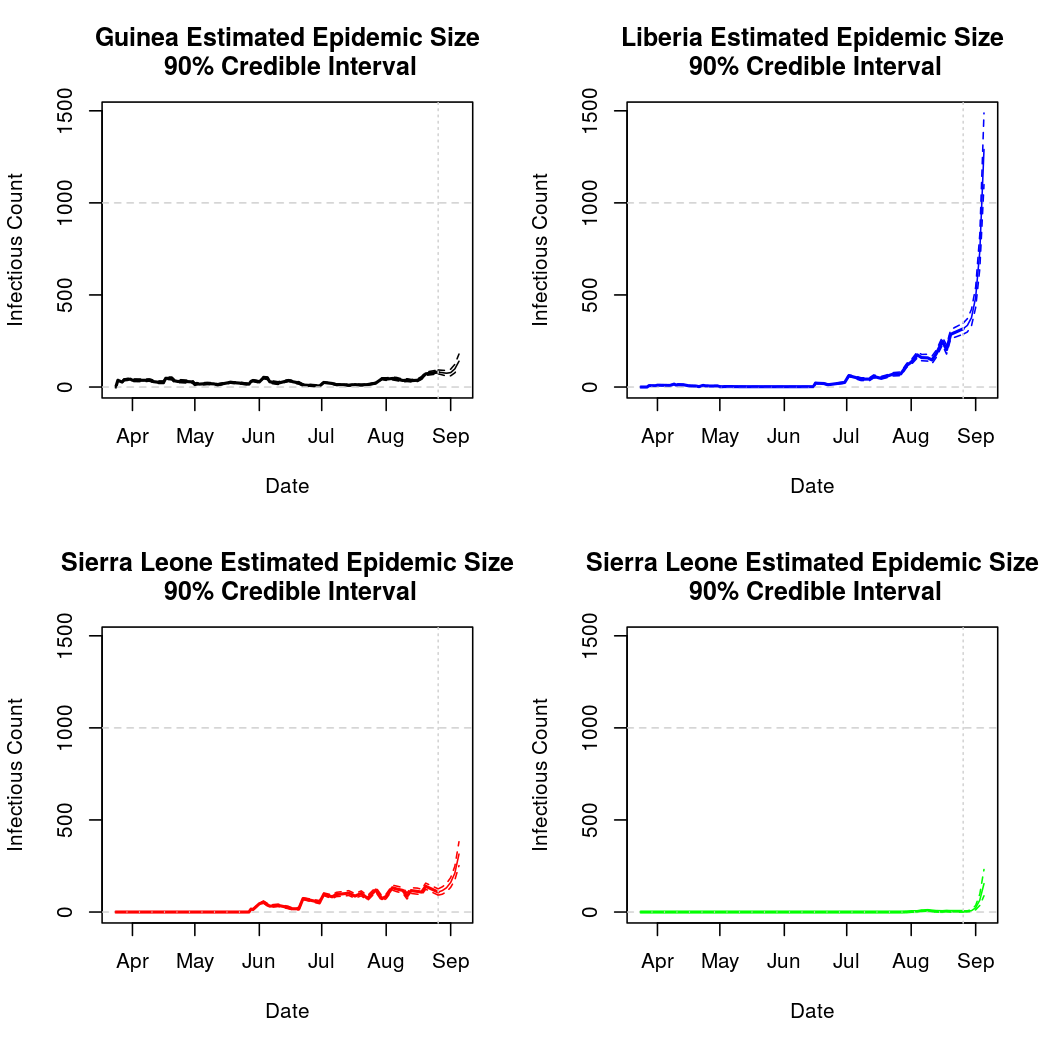 Here we see the most prominant difference between the two approaches. Namely, these predictions appear more reasonable. Such data can also be visualized in map form, though the recent surge in predicted cases has the effect of swamping the earlier dynamics:
Total Infection Size - Estimated and Predicted:
Conclusions
This epidemic is evolving extremely rapidly. As of 8/12, it looked like the situation in Liberia was set to continue worsening, and that Guinea is at risk of the same (though not to nearly the same degree). On the other hand, the epidemic in Sierra Leone appeared to be leveling off (though not disappearing). As of 8/28, these look like reasonable predictions, however the models appear to have resumed predicting a fairly catastrophic continued spread, especially in liberia. In particular, the models predict that the epidemic will take off in Nigeria, as the countries are assumed in this case to share several intensity parameters. We may hope that this particular simplifying assumption is invalid, however it is not a hopeful sign that WHO predictions are also becoming catastrophic. These models can not anticipate public health interventions and sudden changes in governmental policy and individual behavior, but recent news from the region gives little reason to hope for a swift end to the epidemic. It is more important now than ever to support the efforts of involved governmental and non-governmental organizations like the WHO and MSF
That wraps up the analyses for now. This document will continue to be updated as the epidemic progresses, reflecting new data and perhaps additional analysis techniques. As the document is tracked via source control it will be easy to see how well past predictions held up and how they change in response to new information. Questions and comments can be shared here